BRANDON, 1998-1999
http://webart.guggenheim.org/brandon

Commissioned by Guggenheim Museum
in association with Society for Old and New Media, Amsterdam; Institute on the Arts and Civic Dialogue,
Harvard University; Banff Center for the Arts, Canada.

concept/direction: Shu Lea Cheang
with Multi-author upload
Roadtrip interface: Jordy Jones, Susan Stryker, Cherise Fong
Mooplay interface: Francesca da Rimini, Pat Cadigan, L awrence Chua, system programming: Linda Tauscher
Panoptican interface: Beth Stryker, Auriea Harvey
Theatrum Anatomicum interface: Mieke Gerritzen, Janine Huizenga,Roos Eisma, Bram Boskamp
Theatrum Anatomicum Installation: Atelier Van Lieshout
Mardi Gras artist upload: Anna Munster & Michele Barker, Fiona McGregor, Sarah Waterson

BRANDON: A One-Year Narrative Project in Installments explores issues of gender fusion and techno-body in both
public space and cyberspace. BRANDON derives its title from Brandon/Teena Brandon of Nebraska, USA,
a gender-crossing individual who was raped and murdered in 1993 after his female anatomy was revealed.
This WWW project, conceived for multi-artist/multi-author collaboration, deploy's Brandon into cyberspace
through multi-layered narratives and images whose trajectory leads to issues of crime and punishment in the
cross-section between real space and virtual space.


videowall, Guggenheim Museum Soho

						         	bigdoll interface					          	                                        	roadtrip interface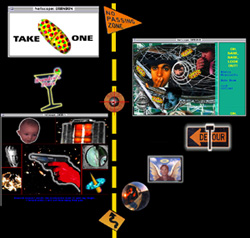 mooplay interface			        		                                                  panopticon interface
	       						      				Theatrum Anatomicum interface                              body forum interface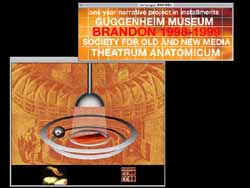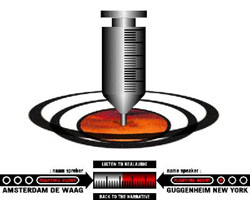 Theatrum Anatomicum Installation